Here is an overview of my services.
I provide in-person, video, and phone psychotherapy sessions. I have a limited number of in-person time slots, and my in-person availability varies. Please contact me to learn more.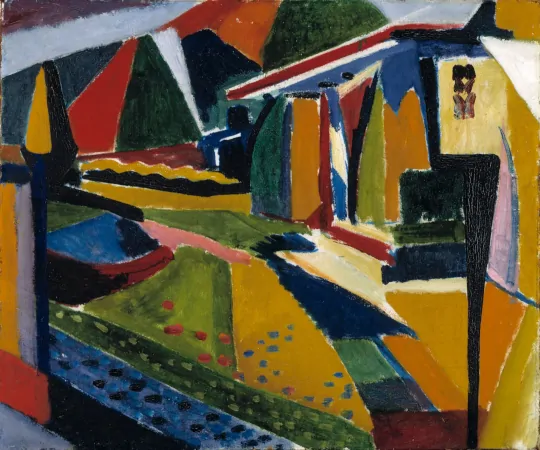 Abstract Landscape (1915) by H. Lyman Saÿen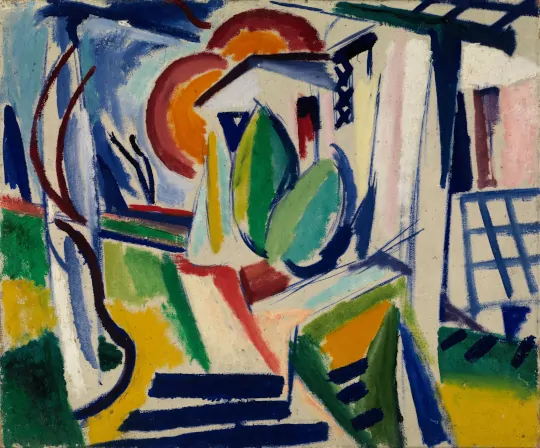 Fugue (1915) by H. Lyman Saÿen
Individual psychotherapy
Individual psychotherapy is the heart of my practice. It's a highly individualized and rich process that is difficult to describe in general statements. So much about how psychotherapy plays out comes down to your goals, the unique areas of focus you bring up, and how our personalities mesh together. Unlike typical medical doctor visits, psychotherapy calls for an active and prolonged effort on your part for it to be effective. Furthermore, psychotherapy is most successful when you put forth effort not only during the time we spend in session but also in integrating what we discuss into your day-to-day life.
Psychotherapy, while often beneficial, can also be quite difficult. Since it frequently involves talking about struggles, you may experience uncomfortable feelings like sadness, guilt, anger, frustration, loneliness, and helplessness. However, working through these unpleasant feelings can be helpful, potentially leading to improved relationships, solutions to specific problems, reduced distress, improved self-esteem, etc.

If you'd like to learn more about the different approaches that inform my therapeutic style, please see my about page. If you would like to learn more about the types of difficulties I treat, please see my home page under the "How I can help" section.

Individual psychotherapy with teens
Engaging in psychotherapy with teenagers is a tremendously fulfilling aspect of my practice. I am fortunate in that I am deeply connected to several areas of life that are impactful for teenagers, like technology, video games, social media, and many others. This familiarity stems from both my personal interests and my clinical research experience. I strive to understand the ever-evolving landscape that teenagers have to navigate. I use this understanding to develop a connection that will act as a foundation for positive therapeutic change.
In addition to working with teens, I am also very passionate about working with their parents or caregivers. It is so often the case that relationships between parents and their teens can be fundamentally improved when communication is worked on. I offer conjoint sessions with teens and their parents if it is likely to aid their treatment.

Although I have extensive experience working with teens, I am not the right fit for all teens. Like adults, teens have incredibly complex, nuanced experiences, and it is critical that they work with someone who is not only able to connect with them effectively, but who has the clinical training and experience to best help them reach their goals. Contact me and we can determine if I'm a good fit for you or your teen.
In my practice, I do not engage in psychotherapy with teens who do not want to participate. It is not in alignment with my training and style, and I also believe it could do more harm than good, both financially and in terms of the teen's mental health. That being said, if you are the parent or caregiver of a teen who is resistant to therapy, please see my section on parent and caregiver support below.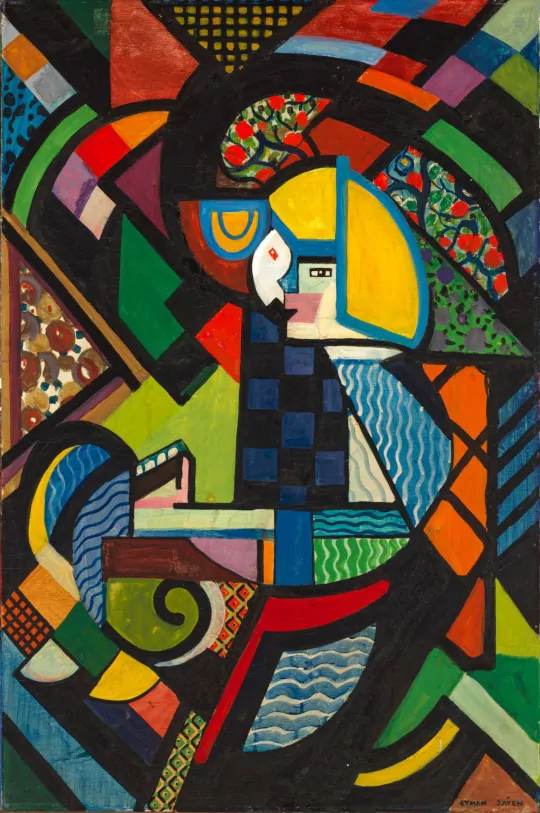 Daughter in a Rocker (1917) by H. Lyman Saÿen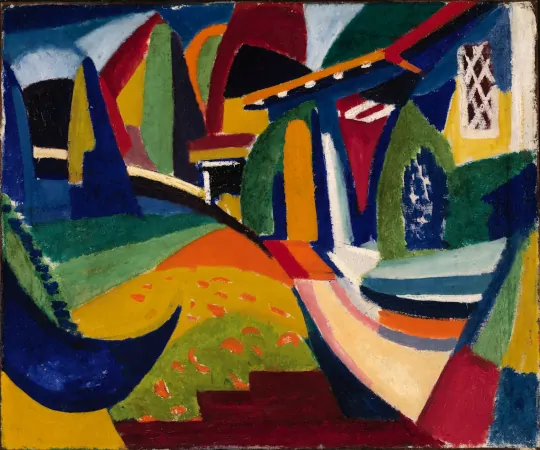 Scheherazade (1915) by H. Lyman Saÿen
Parent and caregiver support
Raising a teenager is an incredibly complex process. Parents need to walk a line between providing structure and boundaries while incrementally providing more autonomy and responsibility. A teenager's journey of developing their own identity, individuality, and independence will often lead to tension and conflict with parents and caregivers. It's no wonder that many teens are resistant to the idea of therapy, as it could be written off as another adult trying to finagle their way into getting them to comply. If you are a parent and are struggling to reach a common ground with your teen and they are not willing to participate in therapy, I may be able to help through directly supporting you.

The goal of parent and caregiver consultation is to help build a foundation of understanding upon which old patterns of conflict and escalation can be dismantled. Doing so requires that we examine relevant family relationships and dynamics in order to identify practical changes that can be made. Such changes may include learning new communication tools, developing strategies to better manage conflict, and interrupting problematic patterns and negative feedback loops. Teens and their parents have an uncanny ability to push each other's buttons. If we can stop pushing buttons and reacting to our own buttons being pushed, that will leave more space for constructive, positive connection.